Pest Control Services – Our Pricing
Organic Pest Control | Conventional Pest Control | Termite Control | Rodent Control

Knowledge Beats Chemicals Every Time
Sprays have their place, but priority is placed on low toxicity products when possible.

We Guarantee our Work
If a problem persists or returns following services, we will return free of charge and take whatever measures necessary to solve your pest problem.

Upfront and Honest Pricing
Conventional Quarterly Exterminating
Monthly All-Natural Pest Control
Family Protection Plan
Quarterly
Quarterly Preventive Maintenance + Unlimited Free Call Backs 

Treatment of the entire yard for protection from fire ants 

Rodent bait stations to help prevent rats 

Minimal indoor applications 

Targeted & Precise applications that are highly effective & long-lasting 
Mosquito Control
Treatment of entire property every 3 weeks

Full guarantee of the interior of the home against pests

Full guarantee of the yard against fire ants
Environmentally-conscious consumers
For environmentally-conscious consumers, we offer responsible, all-natural and organic pest control services for a variety of pests. Our child-safe and pet-friendly exterminating services are both effective and long-lasting. We employ a program that is safe for garden pest control and works well on many of the common garden bugs. We cater to consumers from Vero Beach and Port St Lucie, to Stuart and Palm City concerned about the safety of traditional exterminator products. By using essential-oil based products as well as insecticidal dust derived from plants and minerals. These natural pest control products are effective against Ants, Cockroaches, Earwigs, Fleas, Ticks, Spiders, Silverfish and many other common household pests. We will inspect your home to asses and address pests, entry points, and their places of harborage. Having formulated a plan specific to our customer's situation and needs, we employ a combination of various organic baits, all-natural sprays, and exclusion methods to effectively eliminate and prevent pest problems. GUARANTEED!
Eco-Friendly
Exterior Pest Control & Lawns

Monthly Services – Free Call Backs
Minimum Risk FIFRA 25(b) Pesticide Products
Our eco-friendly pest control program centers on regular treatments of lawns and the exterior of homes to prevent insects from ever entering a residence. While organic sprays have their limits, they provide excellent control of a variety of pests outside of homes.
We regularly inspect prior to treatment for potential issues and address them accordingly. For example, the application of boric acid-based baits is often an important complement to spraying.
Our natural product pest control service is effective against, Fire Ants, White Footed Ants, Big Headed Ants, Ghost Ants (Sugar Ants), American Cockroaches (Palmetto Bugs), Millipedes & Centipedes, and preventative against Fleas & Ticks.
Interior Exterminating

The use of baits containing insect killing minerals as well as mineral-based dust can effectively solve a wide variety of pest problems. Should a particular issue such as German Roaches require the use of synthetic insecticides, the deployment of baits greatly minimizes exposure to chemical products.
Our interior organic pest control service includes

 

long-lasting

 

preventative applications that continue to protect your home, even if you choose not to be on a regular program.
Traditional Exterminating
Our traditional exterminating service focuses on long-lasting protection around the exterior of a home or business, controlling bugs before they have a chance to enter the property. Many exterminators in the area spray baseboards and little else. At Green Pest Services, we emphasize outdoor yard and perimeter sprays to effectively eradicate insects from ants to fleas and ticks. Do not settle for the old 'Run and Gun' method of pest control, where applying a few extra gallons of chemical counts a quality pest service. We provide a detailed and customer-specific program to eliminate pests and protect your home or business from further infestations. We will find and address the source of the problem, while also providing customers with the information and guidance needed to protect their family and property. We are committed to a different kind of pest control, where safety and responsibility are worth a little extra effort.
Traditional Pest Control
Exterior Pest Control & Lawn

Quarterly (3 months) Service & Free Call Backs
Highly effective & long lasting
Effective against the vast majority of pest, especially fleas and ticks for pet owners
More affordable than strictly organic pest control
Still adheres to minimize pesticide use principals by substituting sprays for baits when appropriate
Interior

Even for customers that prefer to go with more traditional pest control products, we rarely utilize synthetic pesticides inside because for many of the most common interior pests, natural products work better and last longer, or exterior pest control is the key to ultimately solving the problem.
Commercial customers, in particular, require regular pest control to the interior of their facilities. Green Pest Services, understands the extermination needs of businesses in Port Saint Lucie and Stuart, including restaurants and medical facilities.
Termites
Termites cause billions of dollars in damage in the U.S. every year, a large portion of which is right here in Florida. In an area as prone to termite infestations as ours, protecting your most valuable asset is a top priority. Following a thorough inspection of a home, we will put together a plan with the homeowner to eradicate and prevent these destructive pests. With a variety of methods available, from chemical arriers to baits, there is no reason to leave your home unprotected.
Termite Protection
Pre-construction

Issuance of Termite Certificates
Termite pre-treats prior to pouring of slab
Preventative treatment for Drywood Termites

Post-Construction

Trench Treatments for the prevention of Subterranean Termites
Treatment of attics for the prevention of Drywood Termites
Rodent Control
Rodents, particularly rats, are destructive, disease carrying creatures. They chew through wire and drywall, raid pantries and foodstuffs, and stain and damage your belongings, all while carrying some of the world's most dangerous viruses and bacteria. At Green Pest Services we provide homeowners with both exclusion and eradication services while also providing a program to prevent future damage and infestation. Rat infestations are among the most common pest problems in South Florida, ask us about our rodent exclusion services today.
Rats
Mice
Trapping and removal
Exclusion & Repair
Rodents have become an increasingly common problem in Port St Lucie and Stuart. More often than not, the rodent problems encountered on the Treasure Coast are rats. Mice rarely infest homes in our area. Green Pest Services provides rat and mice extermination as well as home proofing services to prevent future vermin infestations.
Tubes in the wall
A 'Tubes in the Wall' system is a method of pest control using tubes that have been installed in a home at the time its construction. It allows pest control products to be delivered inside the home without exposing people or pets to chemicals. It also provides homeowners with the convenience of having their pest control service done without having to arrange for a technician to get inside. Because the products are delivered to an environment free of sunlight and rain, the products used last up to six times longer. This means less frequent services and more money in our customer's pockets. And like all of our services, satisfaction is 100% guaranteed!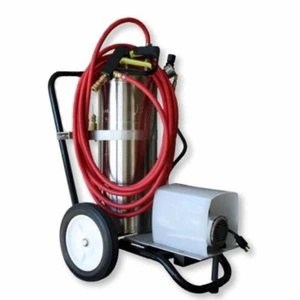 We take a bottom-line approach to each project. Our clients consistently leave great reviews on our service.
– Shane Green. CEO, Green Pest Sevices Fl.