Safety
Green Pest Services addresses flea control in Port St Lucie two ways. First through prevention of flea problems through regular maintenance i.e. regularly scheduled yard sprays. Eco-Friendly, organic, and natural spraying is an excellent candidate for flea & tick prevention.
Second, is exterminating an existing flea population. Conventional pest control products are the best method for this and Green Pest Services strictly adheres to all established safety regulations and precautions when providing flea control services.
Affordability
Green Pest Services typically charges between $150 – $225 for flea extermination services in Port St Lucie or Stuart. Variations in price will depend on the size of the property, the number of pets in the home, and the severity of the infestation.
In most cases, we can provide a quote right over the phone 772-528-5839.
Guaranteed
We Guarantee all of our work. Whether you are looking for a one-time flea exterminating service or on-going preventative maintenance, GPS guarantees to control your pest problem or your money back.
Why is Flea & Tick Pest Control important?
Pets

The quality of life for pets is very important for most people. Flea and tick infestations drain pets of blood and energy – even to the point of death if left untreated. Pest control for fleas and ticks can prevent the four-legged members of the family from having to suffer the ordeal of scratching, rashes and pesticide-laden flea baths.

Disease

There are significant dangers associated with parasitic pests such as fleas and ticks. Infectious diseases like the plague and Rocky Mountain Fever are potentially fatal. Lyme disease can be debilitating for people and potentially fatal for dogs. Even a condition known as tick paralysis can occur as a result of a neurotoxin released by the tick as it feeds on its host. Ticks and Fleas thrive in South Florida's warm tropical climate year-round. For this reason, consider a pest control service as a first line of defense against these potentially deadly pests.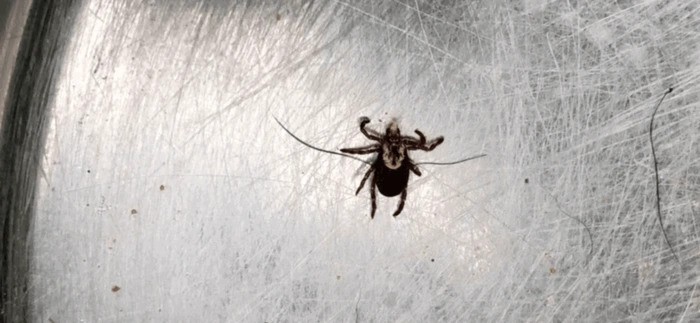 Pest Control & Extermination for Fleas & Ticks
Pest control companies for fleas and ticks in Port St Lucie and Stuart know the challenges of exterminating these pests and an experienced exterminator will have dealt with these flea and tick infestations many times. Due to the complexity and differences in the biology of these two pests, extensive knowledge is essential and experience is necessary.
Martin and Saint Lucie counties, like the rest of South Florida, have long hot and humid summers, with mild brief winters. These subtropical conditions make an ideal environment for fleas and ticks to breed and thrive. It is rarely ever cold enough in South Florida to kill fleas or their eggs. By contrast, high temperatures along with high levels of humidity accelerate the speed at which flea eggs develop. Buying over the counter products and applying them once to a yard will rarely if ever, arrest a developing flea problem. In the case of ticks, they prefer to climb onto trees, bushes, and walls and are less commonly found in lawns. For this reason, a granular application of a pesticide on a lawn will have little or no effect on a tick population, serving only to eliminate money from a home owner's wallet.
Almost immediately after feeding on a pet or unlucky human being, both of these pests will lay eggs in areas frequented by their food source. These eggs are essentially impenetrable by insecticides and therefore require additional treatments within certain timeframes in order to prevent reinfestation.
Compounding difficulties for pet owners, there have been reports in recent years that some of the more common flea and tick control products for dogs, Advantix, NexGard, Frontline, and Capstar, to name a few, are becoming less effective. Whether or not this is true, or some other factor is at play, coupling a preventative tick and flea product with a pest control service will greatly enhance your ability to control fleas and ticks around your home.
Green Pest Services is an affordable, knowledgeable and experienced flea and tick exterminator in Port Saint Lucie and Stuart Florida.
Anytime you are dealing with potentially toxic chemicals safety is of the utmost importance. And though modern pesticides are vigorously tested and generally considered safe when applied correctly, many people would prefer a better option. Green Pest Services specializes in the use of Organic and Natural pesticides products and procedures to prevent and control flea infestations. Essential oil based spray applications to lawns on a regular basis effectively kill fleas and ticks. Mineral based powder applications to interior carpets can kill both adult fleas and their larvae for up to a year. These all natural & organic pest control measures can safely improve the quality of life for pets and people.
Green Pest Services guarantees all work. Whether you are looking for a one-time flea exterminating service or on-going preventative maintenance, GPS guarantees to control your pest problem or your money back.
We at Green Pest Services understand that most people operate on a budget. Nevertheless, protecting the health and quality of life of pets is deeply important to most people. After all, our pets are like family. With that in mind, GPS strives to provide effective pest control services as highly competitive prices. We don't jack up prices for people looking for chemical free or organic pest control. Give us a call and we'd be happy to provide you with a quote right over the phone.
We take a bottom-line approach to each project. Our clients consistently leave great reviews on our service.
– Shane Green. CEO, Green Pest Sevices Fl.